For the Cross Triathlon, Aquathlon, Long Distance Triathlon and Aquabike there will be a swim familiarization event the day before each race.
Swimming In Svendborg
Open Water
You can swim at different locations in Open Water at your own risk any time before or after the race.
Click HERE for a list of beaches in Svendborg
Swimming Pools
We have arranged free swim training on the days leading up to the race at the Svendborg local Municipality swimming pool Svendborg Svømehallen in the town center.
Available: July 7-9th (the last day is for Elite athletes only)
Opening hours - for Multisport 2018 only: 08.00am - 11.00am, doors open at 7.30am
Dedicated hours:
08.00 - 08.40 - Team GB athletes
08.40 - 09.20 - Team USA athletes
09.20 - 10.00 - Team Canada and USA athletes
10.00 - 11.00 - All other athletes
Address: Kedelsmedstræde 20, 5700 Svendborg - 750 meters from the venue in Svendborg


Access: from Centrumpladsen
Access with: Multisport wristband
Parking: Torvet and Centrumpladsen (fee to be payed)
Locker: free use of locker with a 20dkk coin
Swimming pool specifications
25 meters, 4 lanes - maximum 6 on each lane
Water temperature: 26 ℃
Entrance


There are also other public swimming facilities at Svendborg Idrætscenter swimmingpool
Swimming In Middelfart
Open Water
We recommend to swim at Middelfart Marina. You can also click HERE to find a list of safe beaches in Middelfart area.
Swimming Pools
In Middelfart there is a 25m pool. Click HERE
Located 20-25min drive from Middlefart there is also a public sport center: Fredericia Idrætscenter with 25/50m pool
Swimming In Odense
Outdoor pools
During the Multisport Festival, you will have the opportunity for open air swimming in Odense Friluftsbad (free of charge)
Available: July 5-13
Opening hours - for Multisport Festival participants only: 07.30-10.30am, doors open at 07.20am

Dedicated times:
07.30 - 08.10 - Team GB athletes
08.10 - 08.50 - Team USA athletes
08.50 - 09.30 - Team Canada and Australia athletes
09.30 - 10.30 - All other countries

There will be two dedicated Multisport lanes from 10.00am to 06.30pm on a first come, first serve basis.
Address: Elsesmindevej 50, 5200 Odense V - 3.8km from King's Garden
Access from: Elsesmindevej
Access with: Multisport Festival wristband
Parking: free of charge
Locker: free of charge, at your own risk
Diving platforms: no use of platforms before 10.30am
Pool specifications: main pool: 50meters, 8 lanes (maximum 6 people on each lane), small pool: only 60-90cm deep, 18 people are allowed at a time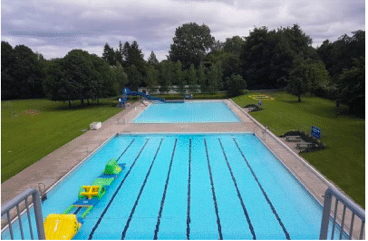 There is also the option to swim daily at the 33.3m outdoor pool: Odense Havnebad within the pool´s normal opening hours 06:00-08:00 and 11:00-19:00.
Odense Havnebad is located at Odense Harbour and less than 1km from Konges Have. Water temperature can be between 20-24 degrees celcius
Please note that there are no lane ropes, and space to swim cannot be reserved. The admission is free of charge and works on a first come-first serve basis.
Indoor pools
There is an option for public indoor swim training in Odense: Klosterbaken (Odense center) - enterance fee to be payed
Please note that all other indoor swimming pools in Odense will be closed in the Festival period.