Note: Aquabike is raced on the same course as the Long Distance Triathlon
The Aquabike begins with a water start at Byens Ø in Odense Harbour and where athletes will swim North along the canal. A three kilometers out-and-home course awaits before the athletes exit the water at Byens Ø and head for the transition zone before getting on the bike.
The bike course begins with some technical sections in the city before crossing Odin's Bridge Odin's Bridge and enter Otterupvej – a long, flat strech where athletes will be able to ride very fast! Along the way the scenery changes from urban to countryside as the riders head North and the athletes ride through the city of Otterup along the way before returning back towards Odense.
The official finish line for Aquabike is located at Thomas B. Thriges Gade approximately 200m before the transition zone, Aquabike athletes will be allowed to run into King's Garden and finish on the official Long Distance finish line.
On the interactive maps below you can get a closer look on the courses and see what awaits you at the world championships on Fyn in July. More detailed graphic maps with a full overview of all course details will be provided later.
Technical descriptions, exact distances, loops and courses for each category (Elite, U23, Junior, Para, Age Group and Open Race) is listed below.
Please note: The courses are subject to change.
Bike Course Profile:
The aquabike course will be raced on the same course as Long Distance Triathlon.
​Technical Information
Click HERE to download detailed turn by turn description
Swim Course
Age Group + Open Race: 3km / 1 lap
The start area will be at Odense Harbour in the Byens Ø area. There will be a water swim start and then athletes will swim heading north up the harbour's more narrow section. There will be a turn around point approx half way, and athletes will turn clock wise, and then swim the same way back. The swim exit will be through a ramp and then make a short run into T1 located on the Harbour car park area at Byens Ø.
The water conditions are expected to be calm and of adequate quality. Temperatures expected between 17-22 degrees celcius.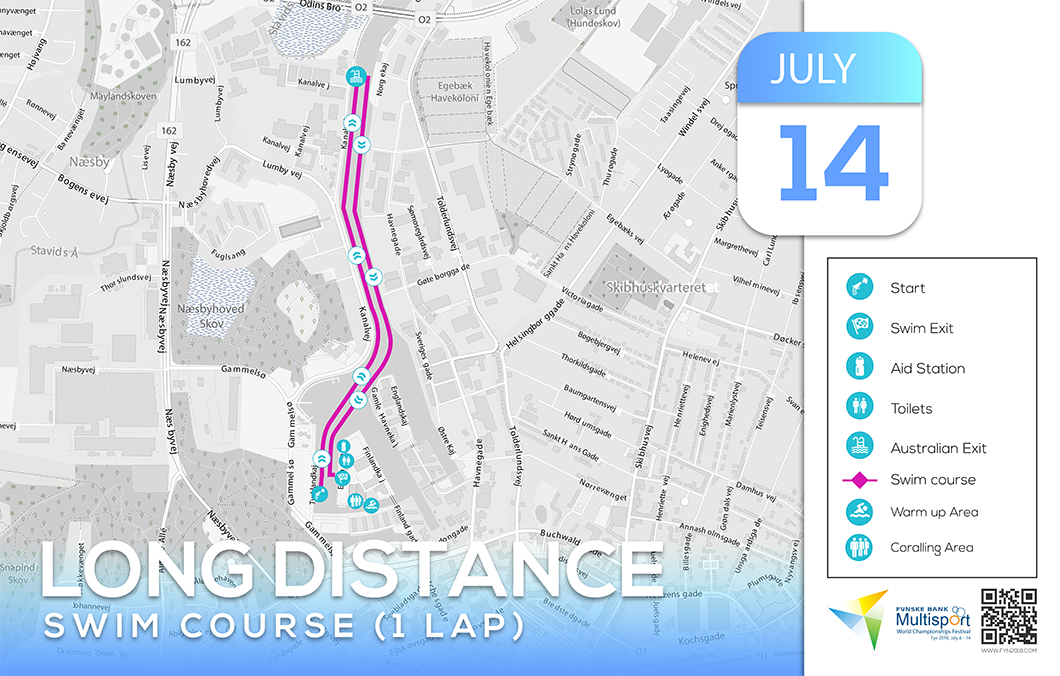 Download swim course map in high resolution HERE
Bike Course
Age Group + Open Race: 120km / 2 laps
Coming out of T1, athletes will head out on a mainly flat and fast bike course of two 60km laps on good quality asphalt. The bike course will leat athletes heading north out of Odense city, with some initial urban areas including some turns. After initial kilometers there will be some longer and very fast, flat sections heading out of Odense where athletes will complete Lap 1 and head back into Odense to the turn point and initiate the second lap. After completing the second lap, athletes will be directed towards town center towards the finish line. There will be a total climbing of 285m per lap (for 570m in total) with some short steep efforts but no relevant or significant climbs. As there will be some urban sections in the course, athletes will experience some technical turns. The roads will be closed to traffic and most urban sections dividing lanes by fences.
Finish Line
Aquabike athletes finish line will be located at Thomas B. Thriges Gade just 200 meters before T2. Aquabike athletes will be able to run into Kongens Have and finish on the official Long Distance finish line.

Download bike course map in high resolution HERE
GPX Map