The list will be updated with hotels regularly. Do you need more information or do you have any questions, please send an email to info@fyn2018.com.
Note, that all prices are in DKK (Danish Kroner). The price is inclusive VAT, tax, handling fee etc. A transaction fee from the card provider/bank may be added. The approximate exchange rate is: 1 EUR = 7,5 DKK. Currency calculator - click here ​(calculations are indicative only - we do not take responsibility for calculations from the google converter).
By booking through our system, you agree to the following Terms and Conditions.
In the interactive map below you can see locations of the accommodation available through the booking system. You can also see the locations of the main venues for each event; ie. starting and finish lines, airports and transportation info. All accommodation options will be available in the booking system shortly.
All the markers are clickable and contains more detailed info. Zoom in and out with the + and - buttons.
Red markers: Main venues, start and finish lines, etc.
Yellow markers: Hotels and accommodation
Blue markers: Airports and transportation.
If you have suggestions for any helpfull information you want added to the map, please contact us on info@fyn2018.com.
Please note: All locations in the map below are approximate in order to showcase the roughly distance between key venues during the Fynske Bank Multisport World Championships Festival.
Odense
Hotel Odense - OCC ****
Hotel Odense is uniquely located near Odense city and the Funish expressway.
In Odense we have 102 clean, bright and well-decorated rooms, as well as seven suites, ready for you – all with cable-TV, wireless internet access and workspace for the businessman or –woman. Staying with us means peace and quiet for work and relaxation – and great opportunities for recreational breaks and entertainment.

The hotel also offers a lobby bar as well as a series of scenic running routes in the surrounding countryside.



ODEON Radisson Blu H.C. Andersen Hotel ****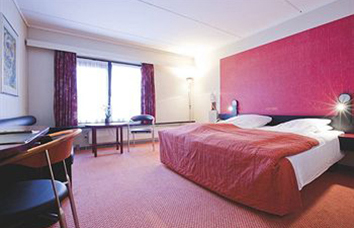 Situated in the heart of Denmark, Odense is the birthplace of the famous 19th-century fairy tale writer Hans Christian Andersen. The Radisson Blu H.C. Andersen Hotel in Odense lies just 100 meters from the Hans Christian Andersen Museum, where you can find out more about the famous writer, and his childhood home is also just a short walk away. The Odense Concert Hall, which is adjacent to the Radisson Blu, is an excellent venue for fantastic performances by the Odense Symphony Orchestra.
n addition to its location in a cultural hotspot, the hotel offers cheerful interior design and modern amenities, including minibars in the rooms and free high-speed Wi-Fi. Enjoy fresh European cuisine at the on-site Restaurant Hans Christian, which is also the home of our signature Super Breakfast Buffet. In between conferences and exploring the charm of Odense, take advantage of our on-site fitness center to boost your energy with a cardio workout or unwind in the sauna after a long day of meetings. Our hotel also features 17 conference rooms suitable for corporate and social functions, with the largest space capable of hosting up to 1,200 delegates.



Hotel Plaza ****
Hotel Plaza is one of Odense's oldest and most beautiful hotels. The hotel is centrally located in the city opposite the King's Garden, near the railway station and within walking distance to shopping and many of Odense's attractions as HC Andersen Museum, Odense Theatre, Brandts and the Funen Village. Hotel Plaza has for generations attracted rock stars, celebrities, business people and families on vacation. We are known for our exquisite breakfast buffet and especially for our á la carte restaurant. We recommend that you book a table in advance.


Hotel Knudsens Gaard ****
BEST WESTERN Hotel Knudsens Gaard is a 4-star hotel situated right in the heart of Denmark. The historic half- timbered, three-winged farm borders the charming cobbled courtyard, where, weather permitting, guests can enjoy their lunch or dinner. The farm has been carefully renovated, respecting the original features.
The hotel has its own free parking, either in the courtyard or in a secure underground car park, which also has charging points for electric vehicles.
Hotel Scandic ****
This hotel is 8 km from the Odense Train Station and the Hans Christian Andersen Museum.
The Scandic Odense's guest rooms have a TV and a bathroom with a shower.
Facilities at the Scandic Odense include a shop and children's playroom. Guests also receive free use of bicycles and Nordic walking poles. Drinks, snacks and toiletries are available in the 24-hour shop.The on-site restaurant serves tapas and other international dishes with several organic options. During the summer, guests can eat out on the large terrace.
If you need to unwind with some exercise, there are scenic runways right in front of your hotel door, but you can also use our modern gym. Our skilled cooks are ready to make you have a nice dinner in our cozy restaurant, where we have outdoor dining in the summer. Alongside the restaurant is the bar which always has a nice atmosphere.
First Hotel Grand ****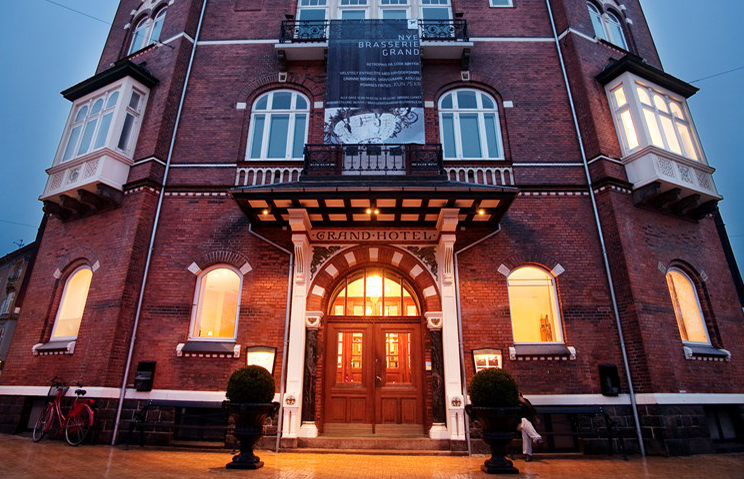 First Hotel Grand in the heart of Odense has been the city's most illustrious hotel since 1897. The hotel is one of Scandinavia's most stylish classical hotels in keeping with its time-honoured reputation. Located in the heart of the city and restored to its original glory as well as offering state-of-the-art conference facilities, First Hotel Grand is the perfect choice for discerning businesspeople as well as travellers on romantic city breaks.
All rooms are individually and gracefully decorated. We offer room service as well as laundry and dry cleaning services. Overnight guests enjoy complimentary access to our brand new and inviting fitness studio. Hotel guests can also park in the nearby parking garage for only DKK 95 per 24 hours.
Naturally, First Hotel Grand is non-smoking.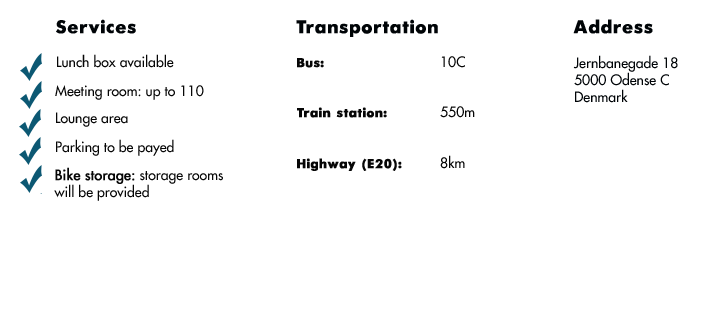 Frederik VI's Hotel Odense ****
This hotel is in the green suburb of Korup, 10 km from Odense Central Station. It offers free Wi-Fi and a gym.
Each guest room at Frederik VI's Hotel has a work desk and satellite TV. Some rooms have tea and coffee facilities.
Communal facilities include a restaurant, bar, terrace and garden. In addition, Frederik VI's Hotel offers activities such as darts and billiards.
Nearby recreational opportunities include golf, hiking and fishing. Frederik VI's Hotel provides free private parking spaces on site.
Hotel Ansgar ***
Hotel Ansgar is located in Odense city centre, near the railway station and within walking distance to cultural attractions, parks and shopping. The beautiful building was built as a hotel for over 100 years ago. Today the hotel is decorated like a classic hotel with 74 rooms and conference facilities.
Hotel Windsor ***
Hotel Windsor is located in Odense city center, close to the train station and within walking distance to cultural, parks, outdoor and shopping. The beautiful building was built to hotel over 100 years ago. Today it is a 3-star hotel decorated in Italian style with 63 cozy rooms. Odense offers sights such as H.C. Andersen House, Odense Theater, Brandts and the Funen Village.
City Hotel Odense ***
City Hotel Odense is a modern hotel built in 1988 with 43 comfortable rooms and private parking yard.
In the center of Odense's Hans Andersen district the modern City Hotel Odense with 43 bright and friendly rooms and 5 beautiful apartments.

The hotel has its own parking yard where you are free to leave your car while you explore the capital of Funen. The buffet breakfast is taken in the cozy breakfast room, and free wireless internet in all rooms
Cabinn **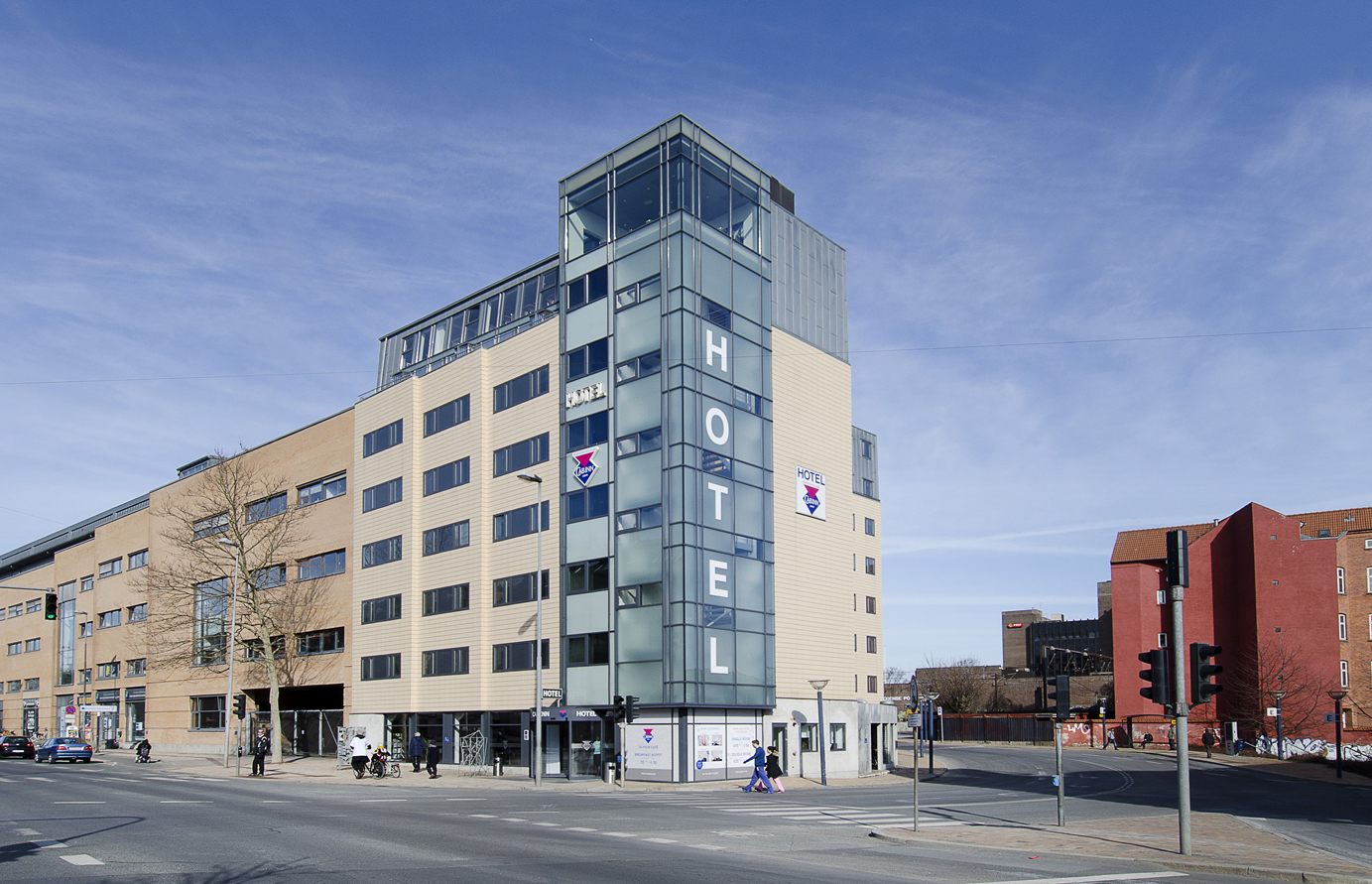 CABINN Odense Hotel is centrally located and just a few minutes' walk from the historic district where you will find Hans Christian Andersen's House. The rooms are ultra-modern, as is the breakfast café on the top floor, where you have an impressive view of the centre of Odense.

Ydes Budget Hotel **
Ydes Hotel was built in 1904, as the first building with more than two floors in Odense. The name "Ydes" comes from Mrs. Yde, who owned the hotel from the war and up to the 60'.
Ydes hotel was fully renovated again in 2008, and a fire alarm system also got installed with direct connection to the fire department. Which among other things, meant that the hotel was awarded "Odense's preparedness price" in 2008.
All rooms are continuously maintained and re-designed There are shower, toilet, telephone, free tv channels and free wireless internet in all rooms
The restaurant serves a varied breakfast buffet: freshly baked bread from our own bakery, four different kinds of cold cuts, cheese, jam and meats, cornflakes, oatmeal, yogurt and muesli, coffee, tea, milk, juice, etc. The breakfast buffet are served from 06:30am to 10:00am on weekdays and 7:30am to 10:00 am on weekends.
Earlier breakfast buffet can be arranged.
Hotel Domir ***
At Hotel Domir Odense you get the best of all worlds. The hotel is located on a quiet, one-way street close to the center of Odense. It only takes a 300 meter-walk to the charming pedestrian zone with plenty of shopping opportunities. You'll also find the cultural part of Odense near Hotel Domir. Odense Theatre, HC Andersen's house, Flakhaven, Odense Cathedral and much more are all located a short distance away from our hotel. Hotel Domir is also located within walking distance to Odense Station.
Hotel Domir Odense offers chic rooms , all equipped with shower, toilet, telephone and flat screen TV. As a guest at Hotel Domir you have also free access to fast wireless Internet and our sweet staff is always ready to help you.
Breakfast is served in our cozy restaurant . Here you can enjoy a well-stocked breakfast buffet, before setting off on a new adventure in the streets of Odense. If you arrive by car, there is possibility to park in the street, where there are parking spaces on both sides. The hotel also has a few parking spaces in the yard, which is reserved for our guests.
Dalum Landbrugsskole
Dalum Agricultural College is one of Denmark's largest and oldest agricultural colleges – today a modern international college for further agricultural education with proud traditions and a historical atmosphere.
Beyond about 250 agricultural students, it is also possible for the college in an exciting and different way to have a course and conference department, where it is possible to accommodate about 70 participants in meeting, and up to 600 guests can hold conferences. The participants can use the new-built Competence Centre including all modern facilities, and at the same time they can enjoy the historical atmosphere from the time of Kold. In this way, Dalum Agricultural College today is an exciting cross field between country and town, which has a professional accession to activities of meeting and conference for all people.
Svendborg
Hotel Christiansminde ****
At the entrance to Svendborg, the Capital of the archipelago and the perfect end to all the islands, you will find Christiansminde. Walking or biking, kayaking, angling, diving, flavors beyond the usual, races and much, much more awaits you at Christiansminde, – whether you are here on holiday or attending a conference or a seminar. If you wish to take a morning swim in the sea, we have always bathrobes ready at the reception that you can freely borrow during your stay. Use the amazing natural framework – or relax on your private balcony or terrace and enjoy the stunning views.
The hotel is 3 minutes walk from the beach. Next to the beach by Svendborg Sound, this hotel is one kilometer from central Svendborg. It offers both guest rooms and apartments, each with a balcony. Both Wi-Fi and private parking are free.
A fridge, coffee/tea making facilities and a TV are featured in all accommodations at Hotel Christiansminde. Some rooms include sea views and a well-equipped kitchenette.
Views over the islands of Tåsinge and Thurø can be enjoyed from Christiansminde's restaurant and large terrace. Other facilities include a wine cellar, minigolf and a game room with billiards and darts.
Best Western Plus Hotel Svendborg ****
Best Western Hotel Svendborg is a 4-Star hotel located in the centre of the beautiful old market town of Svendborg, on the south of Funen.
Best Western Hotel Svendborg offers 135 rooms and more than 33.000 sq ft of conference facilities, including a variety of rooms especially designed with your meeting in mind.
All rooms are equipped with en-suites (all with showers, some also have a bathtub), telephone, TV with FREE movie channels, tea and coffee making facilities, hair drier and FREE WiFi.
The hotel has a 24-hour reception.
All prices include a breakfast buffet served in the restaurant between 6.30-9.30 am Mon-Fri, 7.00-10.00 am Saturdays and 7.30-10.00 am Sundays
The restaurant is open for lunch between 12-3pm and dinner is served between 6-9.30 pm (last order). At busy times table, reservation is advisable. Please note, there is no service on Sundays after 10 am.
We also have a small a fitness room, the local public swimming pool is just next door and we have several running routes from the hotel.
Middelfart
Comwell Middelfart ****
Comwell Middelfart is centrally located close by woods and the beach. In addition to the lovely and practical location, the warm and welcoming atmosphere and professional staff are the characteristics that the hotel is known for.
Our kitchen stands for exquisite gastronomy, and from the restaurant Usigten (The View) you can enjoy the beautiful view overlooking Lillebælt. In the a la carte restaurant Trésor the fireplace is often lit and the wine is chilling.
The light meeting and conference rooms are equipped with all the facilities you could imagine, including modern AV-equipment, and our experienced MeetingDesigners are more than happy to offer effective and inspirational input that creates involvement and extra engery from the meeting attendees.
We have 124 large double rooms, including 42 business plus rooms with Hästens beds, 20 business rooms, 16 standard rooms, 44 apartments, and 2 suites. All rooms have a bathroom, telephone, radio, tv, internet access, room service, 24 hr. laundry service, as well as paytv.
Hotel Park ***
Hotel Park in Middelfart is located near the train station, right in the city's lively center and not far from the waterfront and nature on Funen's west coast. The beautiful building is 100 years old and served once as a hospital. Today, it is a modern 3-star hotel with 103 rooms.
Severin ***
At Severin, we focus on cooperation and creativity. You can find here a calm and relaxed atmosphere that gives a special mood – or spirit. At Severin, we focus on cooperation and creativity. We have large and small meeting rooms to hold conferences, courses, training and meetings – that suits to your needs. With a location in Middelfart – in the triangle area, middle of Denmark – with a unique view over Lillebælt and the two bridges to Jutland, Severin makes it a great place to stay.
The rooms at Severin are bright and modern and have a wonderful view over the water, forest or courtyard.
We keep the history alive with a little touch of the Cooperative School. Our rooms are decorated with the famous and today retro-embossed FDB posters on the the walls and a modern version of FDB's armchair. This reminds us that FDB also owned a furniture factory back in the days. Everything is furnished and designed in delicate colors and a contemporary style with large bathrooms with shower, hairdryer, ironing facilities, TV and free wireless internet.
We have a fitness room with treadmills and exercise bikes, and you can get outdoor running routes handed out in our reception.
Ringe & Blommenslyst
Boltinggaard Gods
Boltinggaard'shistory dates back to 1589, and is today owned by Peter-Vilhelm Rosenstand.
The estate comprises 600 hectares of farms, forestry and nature reserves, as well as a number of rental houses.
Midtfyns Ferieby
Located in Ringe, Midtfyns Ferieby offers a wellness centre and an on-site café. Odense is 25 km away. Private parking and WiFi are free for guests.
Each room comes with an electric kettle, seating area and a wardrobe The private bathroom comes with a shower.
A wellness centre, including a gym, is found at Midtfyns Ferieby. Sports massages can be booked on site. The café Puls serves dishes for both lunch and dinner.
Svendborg is 25 km from Midtfyns Ferieby.
Thaisen Hus
You will feel at home at Thaisen Hus, with rooms furnished with all the necessities: en suite bathroom, desk, tv and bed. All bedrooms are put together with cozy details, such as green plants, funny syrealistic pictures, Funen books and local ceramics. Your room will be completely private, some are overlooking nature. We have 28 lovely and bright rooms, all of which can be made into a double room.


Tøystrup Gods
At Tøystrup Gods, we have a total of 26 large, cozy, tastefully decorated rooms, all renovated in 2006.
All rooms are en suite and equipped with hairdryers, flat-screen TVs and wireless internet.


Blommenslyst Kro ***
Blommenslyst Kro is located a few kilometers west of Odense and near the motorway exit 53. It is a classic roadside place next to the old Middelfart Road, which has a long and interesting history, although the buildings are new.
The inn has undergone several renovations over time, most recently in January 2016, where we continued to style in a new, modern way.
There are good bus connections to downtown Odense, right from our doorstep.
We have 52 rooms with new beds, private bathroom, TV and free WIFI.